Company Profile
Founded in 1985, First Republic and its subsidiaries offer private banking, private business banking and private wealth management, including investment, trust and brokerage services. First Republic specializes in delivering exceptional, relationship-based service and offers a complete line of products, including residential, commercial and personal loans, deposit services, and wealth management. Services are offered through preferred banking or wealth management offices primarily in San Francisco, Palo Alto, Los Angeles, Santa Barbara, Newport Beach and San Diego, California; Portland, Oregon; Jackson, Wyoming; Palm Beach, Florida; Boston, Massachusetts; Greenwich, Connecticut; and New York, New York.
Publicly traded under the NYSE stock symbol "FRC," First Republic is a constituent of the S&P 500 Index and KBW Nasdaq Bank Index. The Bank exceeds all of the current regulatory guidelines to be well-capitalized and is a member of the Federal Deposit Insurance Corp. (FDIC) and an Equal Housing Lender.
Investor Presentation (PDF)
Read our latest investor presentation to find out what has contributed to First Republic's strength, stability and growth.
View Presentation
Stock Price:
FRC

$90.64

 

 0.71%

 0.64
As of: August 21, 2019 4:10 p.m. ET
Stock price provided by NASDAQ
Minimum 15 minutes delayed.
Stock Chart:
---
Annual Reports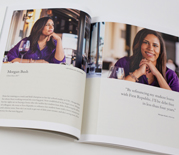 2018 Annual Report
Long known for its client testimonials, the First Republic Bank annual report also includes financial data, an overview of products and services, corporate information, and community reinvestment highlights.
See All Annual Reports
Event Calendar
Q2 2019 First Republic Bank Earnings Conference Call
Tuesday, July 16, 2019 10:00 a.m. ET
See All Events
Newsroom
The latest press releases, articles and information about the Bank can be found in the First Republic Newsroom.
Visit Newsroom
Filings
| | |
| --- | --- |
| Form 4 for Herbert | August 15, 2019 |
| Form 4 for Selfridge | August 09, 2019 |
| Second Quarter 2019 Form 10-Q | August 08, 2019 |
| Form 4 for Lichtman | August 05, 2019 |
| Form 4 for Dobranski | July 31, 2019 |
| Form 4 for Herbert | July 30, 2019 |
| Form 4 for Erkan | July 30, 2019 |
| Form 4 for Lichtman | July 26, 2019 |
| Form 4 for Bontemps | July 18, 2019 |
| Form 8-K – Investor Presentation | July 16, 2019 |
See All Filings
Corporate Governance
Led by its executive management team with supervision from an independent board of directors, First Republic is guided by a set of processes and policies that govern its operation.
Visit Corporate Governance
Investor Contact
Questions about First Republic stock and other financial information related to bank operations can be directed here.
Visit Investor Contact
---
Frequently Asked Questions
What is First Republic's FDIC Certificate number?
59017
Is First Republic an SEC registrant and have a Bank holding company?
No, First Republic is not under the purview of the SEC as of now and we do not have a bank holding company. We are subject to the information reporting requirements of the Securities Exchange Act of 1934, as amended (the "Exchange Act"), as administered and enforced by the Federal Deposit Insurance Corporation (the"FDIC"), and we are subject to FDIC rules promulgated thereunder. Consequently, we file annual, quarterly and current reports, proxy statements and other information with the FDIC, copies of which are made available to the public over the Internet at https://efr.fdic.gov/fcxweb/efr/index.html.
Where are First Republic Bank's headquarters?
First Republic Bank's headquarters are located at the following address:

First Republic Bank
111 Pine Street at Front
San Francisco, CA 94111

You can find all of our contact information here.
When did First Republic Bank become a publicly traded company?
December 9, 2010.
Who is the company's transfer agent?
Computershare Shareowner Services, LLC
When are First Republic's financial results announced?
First Republic operates on a calendar fiscal year. Earnings are reported the month following the end of each quarter.
What exchange does First Republic trade on and what is the company's ticker symbol?
First Republic lists its common stock on the New York Stock Exchange under the ticker symbol "FRC".
Who is the outside securities legal counsel for First Republic?
Sullivan and Cromwell LLP.
How long has First Republic been in business?
The Bank was founded in San Francisco in 1985. It operated independently through 2007 (and was traded as a public company from 1986 – 2007) at which time it was acquired by Merrill Lynch. From September 2007 to June 30, 2010, it operated within several corporate legal entities (including Merrill Lynch Bank and Trust Co., FSB and Bank of America N.A.). On June 30, 2010 First Republic successfully completed a management-led buyout of its business from Bank of America and became an independent bank once again.
Does First Republic Bank have a Quiet Period?
Yes. First Republic Bank observes a quiet period as the team prepares to release quarterly and annual earnings. This begins following the 15th of the last month each quarter (March, June, September and December) and continues until earnings results are publically announced. During this period, FRC refrains from answering inquiries about business performance and related matters.
How can I contact Investor Relations?
Investors can contact the company by sending an e-mail message to InvestorRelations@firstrepublic.com or call First Republic Bank Investor Relations at (800) 392-1400.